i need to get these posted before it's way too late, if it isn't already! we had a great halloween this year...the holidays just keep getting more and more fun as the kids get older and their excitement grows. here they are making some witches' brew before getting ready for trick-or-treating...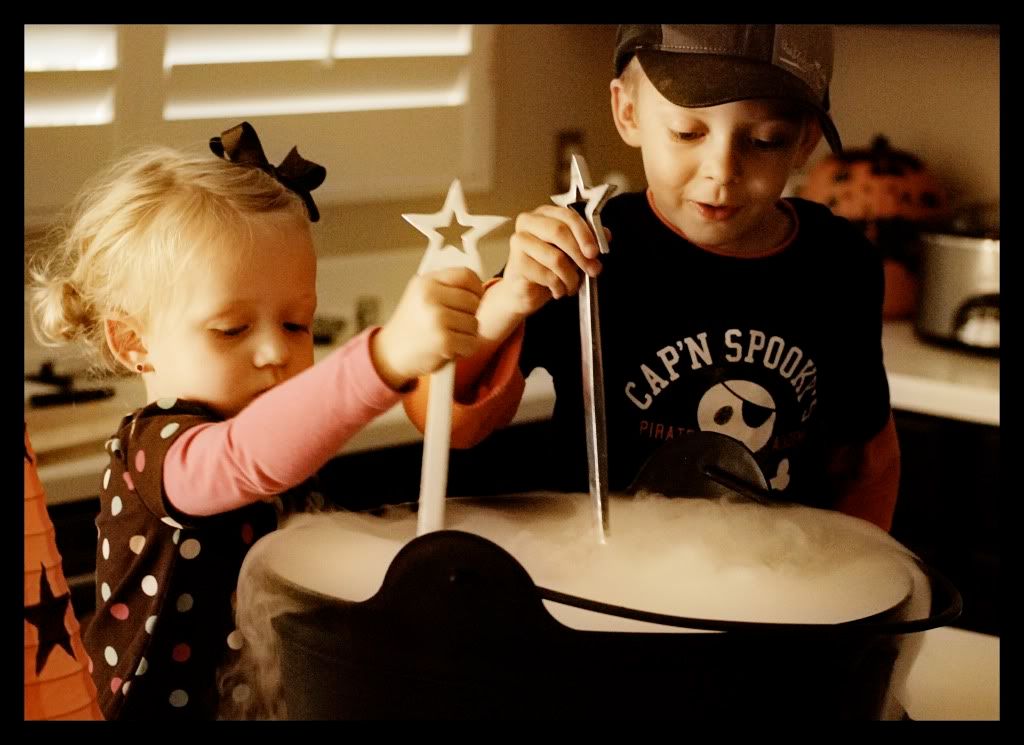 they were a cowboy & cowgirl this year...in the weeks leading up to halloween, emerson tried to convince everyone that they should "be like me" and dress up as a cowgirl. she loved it...she's still asking people, "what you be??"

headed out with dad...emerson has like 5 shirts on mind you. it was pretty chilly that night, and so in an effort to not cover up her cowgirl outfit, we just layered her like crazy...she was little miss hefty for the night.

our after trick-or-treating snack...i don't know what i was thinking, really. well, i do know what i was thinking. i thought this was a cute idea and i wanted to make them, BUT the kids really didn't need more sweets & it was cold outside...icecream on a cold night...not the best idea. BUT, we did have hot chocolate with it...if that counts for anything!

the chocolate webs were a hit...i'm pretty sure the kids skipped out on the icecream & brownies...
miss emmy with her "de-peanuted" candy. i was very thankful for her cooperation with the whole thing. i'm surprised at how well she understands the fact that certain food will make her sick. thankfully she never puts up a fight at all & zac is always sooo good to keep an extra eye out for food that contains peanuts. it sure makes things a bit easier in times like halloween! :)

this girl is a hoot. she makes us laugh every day & is growing up sooo fast, it's crazy. i still call her my baby, because she is in a sense...even though she is 2 1/2! she's very quick to correct me when i call her ''my baby", by saying, "no. me emmy. me big guu (girl)." we're having a twin bed delivered for her tomorrow...and it makes me sad. i'm realizing that these kids are not going to stop growing up! they change so fast. if anything, it's just a reminder to savor the time i have with them all that much more...

in this picture, she was in perfect position for a cute shot...i asked her to smile, and this is what i got in return...

this fall zac conquered the monkey bars!! it was so fun to watch his persistence come out...he'd try over & over until he got it down. those little accomplishments are so fun to watch and experience...i was so proud! :) and speaking of kids growing up fast...this boy's 5th birthday is monday!! crazy...