Crew Michael Field


Sunday, February 28th @ 7:05 p.m.
8 pounds, 20 1/2 inches

this week has been a busy one...full of all sorts of emotions. we couldn't be happier to have this little boy join our family. he is soooo sweet and has such a tender spirit...he has already brought so much happiness into our lives & we are so incredibly grateful to have him.

like i said, this week has been a bit crazy, so i'll try and give a quick overview of what's gone on. sunday morning i put the kids in the tub around 9 and started having contractions. they were about 3 minutes apart. after 2 hours of this, i called labor & delivery to see what they recommended and they told me to stay home as long as i could handle the pain...so that is what i did, stayed home and kept busy by cleaning, vacuuming, and baking cookies. my sisters & mom drove up to be with the kids & we got to the hospital around 3:30. i was dilated to a 5 & about 90% effaced. then you know how it goes, epidural & all that. around 6:50, i began pushing. crew's little heart beat dropped down to around 50, and i could tell the doctor was getting a bit stressed. after pushing through 4 contractions & crew's heart beat continuing to go down, the doctor decided to use a vacuum to help with the delivery. and sure enough, he came right out...thank goodness!!

on monday i started noticing that every once in a while (like once every 3 hours) crew would start twitching. it was a rhythmic twitch that would last about a minute or so & it wasn't something i remembered seeing with zac & emerson. i asked the nurses about it, and they told me that it was just normal newborn behavior...their nervous systems aren't completely developed and it's nothing to worry about. but something didn't seem right to me. monday night around 10:30 a nurse came in to take crew to the nursery to check all of his vitals & i mentioned the twitches to her...she also kind of dismissed my concern & assured me it really wasn't something to worry about. 15 minutes later, the nurse came back & told me that she saw him twitching & agreed that it wasn't normal. she called the pediatrician, crew was admitted to the N.I.C.U. & they ran some tests that night. tuesday morning, they confirmed that crew was experiencing minor seizures due to a slight hemorrhage surrounding his little brain...(the hemorrhage was caused by the vacuum). they started crew on some anti-seizure medicine which has been great. as far as we know, he hasn't had a seizure since tuesday morning at 11. this monday, they will run another test to make sure that the seizures really have stopped...and then we'll go from there...figuring out how long to keep him on the medication...(he needs to stay on the medication until the little amount of blood that is surrounding around his brain is fully reabsorbed) hopefully, he'll be home sometime next week, but you just never know, so we're trying not to get our hopes up too high. he really is doing so well though & the doctors are very hopeful & optimistic that there are no major problems or issues.

thanks to dad field being here with zac & emerson, chad & i have spent about 6 hours a day up at the hospital with our little crew. at times i feel torn, but this is our reality right now & so i'm trying to make the most of it...but it hasn't been easy. i love my little family & really, i just want for all of us to be together under the same roof. i know that it will happen soon, but it feels like an eternity...


so excited to have a brother...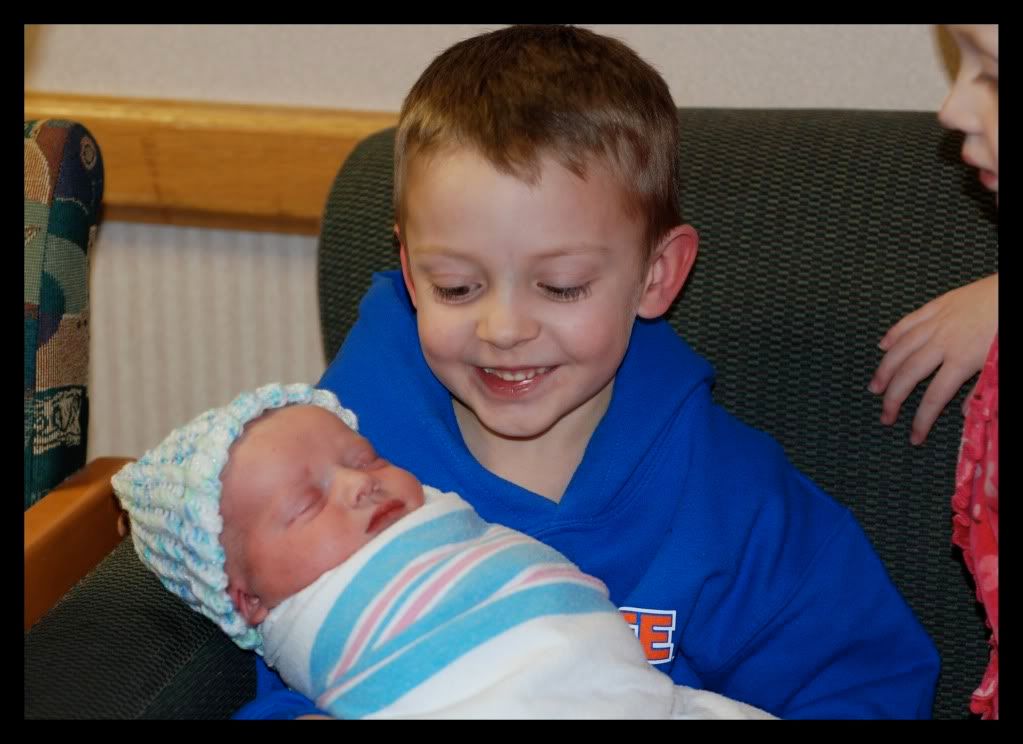 and just as excited to be a big sister...no wait, according to emmy, she is the "mommy" and supposedly i am "emmy"...funny girl!

this is crew when he was first admitted to the N.I.C.U....i'll have to post some more pictures of him now though because he doesn't look like this anymore. he really looks like a perfectly healthy baby...he is still hooked up to the oxygen because the medicine he is on makes him sleepy which causes him to not breathe as well, but we're in the process of getting that regulated though, so it's not really a concern. poor boy...i'm glad he won't remember this...

chad is such a dedicated dad. he loves our kids so much & i love him for that...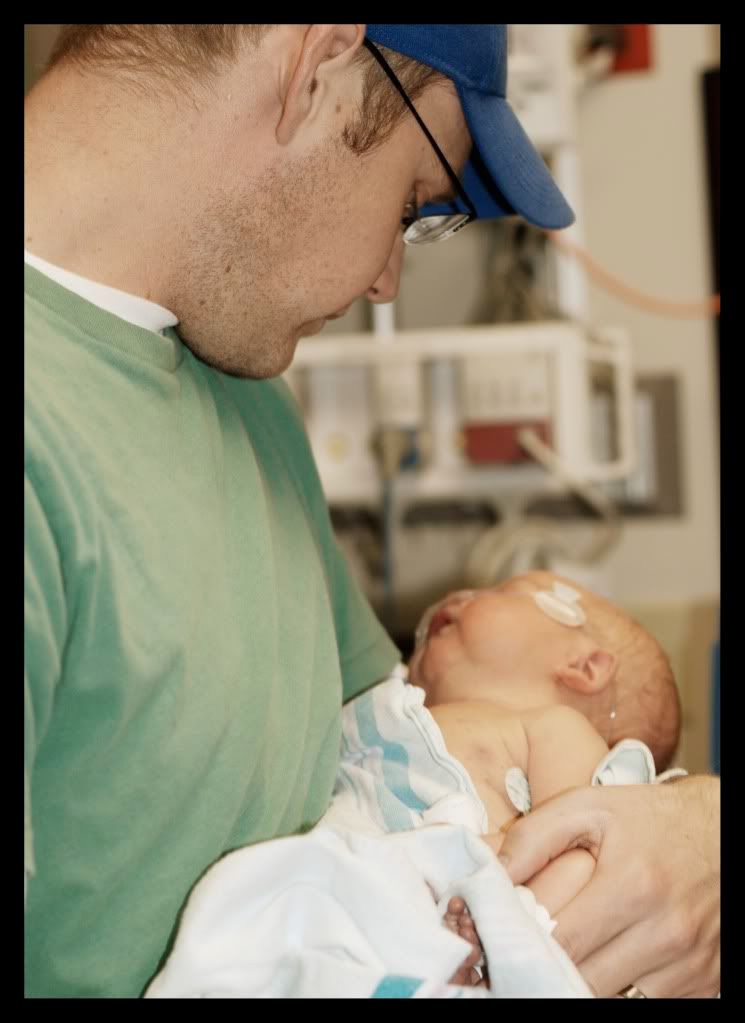 i'll try to be better about keeping everyone posted...we should know more at the beginning of the week. please keep little crew in your prayers... ;)